Measuring the functional effectiveness of government programmes
GovKG connects the function of government to the structure of government. It facilitates the transformation of data and information into knowledge, enables intelligent data governance, and empowers government agencies to connect siloed information. 
This enables clarity on expenditure and commitments within government agencies.
GovKG significantly decreases the risk of erroneous decisions by delivering traceability, auditability, precise and customisable reporting.  
GovKG enables the structure of government and the real-world outcomes, articulated through the Portfolio Budget Statements, to be directly mapped to the function of government via Administrative Arrangement Orders (AAO). This capability enables human and machine decision-makers from both public and private sectors to clearly see the contributions that government agencies are delivering to the development and evolution of society.
How does the GovKG deliver such clarity?
GovKG contains multiple pieces of information about Australia's federal government: its structure, the functions it performs, the mechanisms for government structural change over time (AAO), and the resultant government capacity (funding, other resources, and capability development) that impacts real-world societal outcomes. 
GovKG is a unified knowledge graph, where information about the government is presented as a cohesive knowledge asset. In conjunction with other connected knowledge graphs, it provides the context necessary for correctly interpreting metadata and data.
It is a model of the relationship between the function and structure of government, and models changes made to government function and structure using the AAOs which promulgate these changes.  The GovKG also models changes over time relating to which matters and legislation are administered by which department or portfolio 
This knowledge asset can be used to answer complex questions regarding the impact in society of government programmes. It achieves this by linking the information contained in the Portfolio Budget Statements (PBS), and/or other data sources, and aligns that information to the function of government by context, location, and time. The GovKG provides the ability to understand what the structure of government was (in relation to its function) at any moment in time since Federation in 1901. 
GovKG is highly extensible, and can be tailored to accommodate other tiers of governments (State, Territory, Local Government Authorities, etc.) to answer questions across the whole of Australia's government. GovKG has a comprehensive filtering capability enabling the inclusion or exclusion of knowledge, as required by a user (human or machine).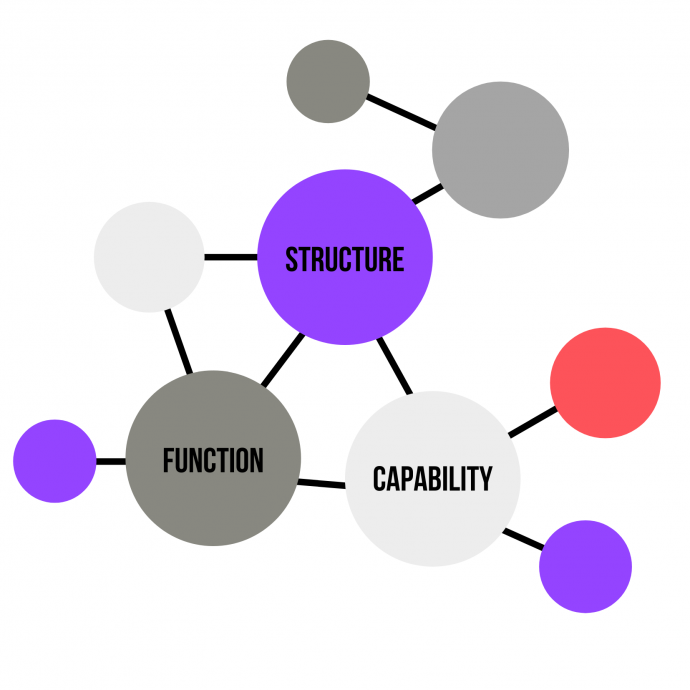 GovKG includes the following types of data:
Government structure

including changes over time
Functions of government
including changes over time

Capabilities of government personnel
Crosswalks between: 

the functions and structure of government
the taxonomies of government functions 
the association between the structure of government, and the association between which 
departments / agencies administer which legislation (over time)

Numerical data - numbers from government departments' financial statements
Content items
Structure datasets
Australian Government Organisations Register
Australian Administrative Arrangement Orders
Portfolio Budget Statements
Commonwealth Records Series Database
Classification Taxonomies
Australian Government Interactive Functions Thesaurus (AGIFT) 
Government Purpose Classification (GPC)
Local Government Purpose Classification (LGPC)
Classifications of Functions of Government (COFOG)
Commonwealth Record Series (CRS) Thesaurus
Entity Establishment Authority
Classifications of Functions of Government - Australia (COFOG-A)
Government Finance Statistics
Public Service Act Body Types
Linksets
Numerical Datasets