SURROUND combines our Knowledge Graph offerings and products to deliver a very powerful as a Service capability: Knowledge as a Service (KaaS). 
SURROUND's KaaS enhances your data and processes through the addition of context.
KaaS delivers knowledge, as opposed to just data or information. It presents data definitions, terminology, data associations and learned experience to provide more than just the facts of data or information: you understand what the information is about, what it can tell you and how well you can trust it.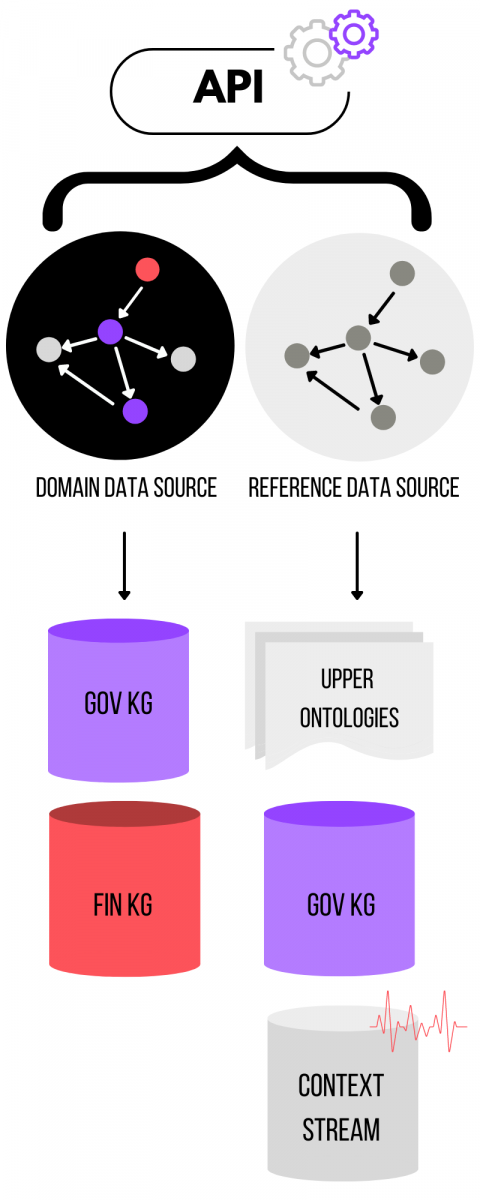 Elements of SURROUND's KaaS
Domain Data Sources

Knowledge Graphs or other collections of information

Multiple sources of

context

(e.g., what, where, when, who) in the form of different mapped datasets

Reference Data Sources

Upper Ontologies - high-level models for integrating data

Taxonomies of terms - providing data definitions, vocabularies, data catalogues

Context Streams

Outdated information isn't knowledge

Dynamically ingest information from continuously changing sources and add them to the data used by the KaaS
Benefits of KaaS
Interoperability
KaaS enables linkages and mapping between previously disconnected silos of data. Data from Silo X may be combined with data from Silo Y by first associating each with context via a KaaS which includes models, reference data, vocabularies, data governance principles and more. Then, with each silo's data now containing context, they may be able to be crosswalked via associations. Disconnected data and information models can also be modelled and mapped using KaaS to promote further interoperability. 
Data Insights
Today's tsunami of data can overwhelm organisations from analysing patterns and correlations to derive meaningful insights. KaaS can be used to enhance data definitions, data presentation and data categorisation so that patterns and correlations are more easily identifiable, leading to more targeted and valuable data insights.
Situational Awareness
Often the necessary information required in an urgent situation resides in disconnected systems and silos that do not easily communicate. The consequences are delays in getting the right information into the right hands at the right time to make the best next decision.
KaaS can link systems and silos, provide access to multiple domain knowledge graphs that contain both domain-specific knowledge and also continuously updated datasets of current domain information. These can be used to deliver enhanced environment situational awareness as domain knowledge and trends become known through the KaaS.